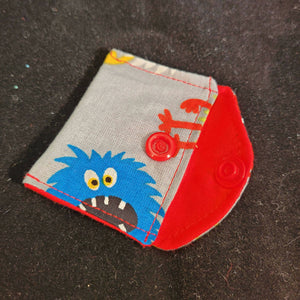 This small pouch is perfect for your child's exchange with the toothfairy. Fabrics are 100% cotton and come in a variety of prints. Dragons, dinosaurs, monsters, unicorns, and flowers are all options.
More About the Artist:
Rhiannon Lykken, the woman behind DragonEssence has been sewing and creating with fabric since she was a very young child. Passionate about sustainability and the footprint we leave behind, she believes change can be made with baby steps and likes to make fun reusable alternatives to disposable items. Other products include un-paper towels, snap top bags, re-useable water balloons and many more items.
See more items from Dragon Essence on her Virtual store front - Sacramento.Shop/DragonEssence