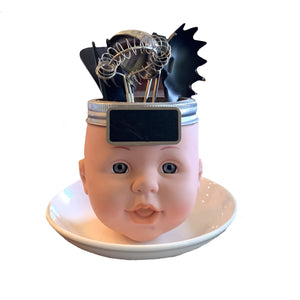 Crazy Cook baby doll utensil holder is the coolest kitchen addition. Comes with a brand new set of mini cooking tools for the chef with a delicate touch. Topped with recycled mason jar lids and lined with gray trim. It's a unique piece of functional art! 

About the Artist

Grace Yip is known for bold, one of a  embody a "Be Bright.Be Brave" identity. All creations are made from new and recycled materials. All creations are a result of this vision and a zany mind. 
"For me, the magic has always been in the details. I love to create magical moments and vignettes. Consuming less and creating more is part of my design passion. 
Check out more of Grace Yips - styles and designs on her virtual storefront