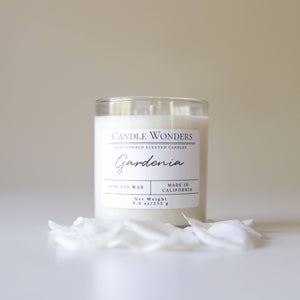 Gardenia Candle - This lovely scent is a true classic! The gardenia flower naturally exudes an exotic smell that will forever be etched into your memory after the first burn.
Fragrance Notes: White Gardenia, Citrus, Lily of the Valley, Aldehydes, Jasmine, Muguet and Amber Woods

More About the Artist: When I started Candle Wonders, it was very important to me that I create an environmentally conscious product and brand. As such, I use sustainable soy wax, lead free wicks, non-toxic fragrance oils and recyclable and biodegradable packaging materials. 
In everything that I do, my faith and family are at the core of my being. 

See more from Candle Wonders - sacramento.shop/candlewonders