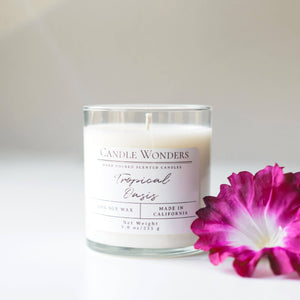 Escape to your favorite vacation spot right in the comfort of your home! Get ready to awaken your senses with some tropical goodness! Eco Friendly, vegan candles.
Fragrance Notes: Pineapple, Mango, Coconut Milk, Sugar and Mandarin
More About the Artist: When I started Candle Wonders, it was very important to me that I create an environmentally conscious product and brand. As such, I use sustainable soy wax, lead free wicks, non-toxic fragrance oils and recyclable and biodegradable packaging materials. 
In everything that I do, my faith and family are at the core of my being. 

See more from Candle Wonders - sacramento.shop/candlewonders