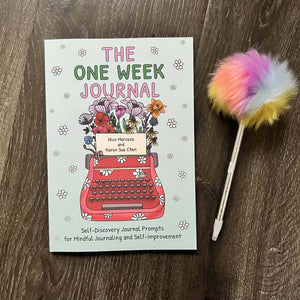 This 7 day journal is designed to encourage you to practice especially meaningful, time efficient journaling by spending just 20 minutes each day with words of inspiration and journal writing prompts.
This journal could change your life. From the creative minds of Karen Sue Studios, comes The One Week Journal, a new guided journal approach to self-discovery. Created by Karen Chen and Nico Marceca, the authors of wildly successful coloring books and journals, this journal could be life changing.
Reflect on your personal growth. The One Week Journal is an approachable, time-efficient, weeklong project. Each day you address two self-exploration themes to help you gain clarity in your life. The journal enables you to dial into your feelings during a week of your life and record your self-development progress. You then are encouraged to revisit past weeks in your journal throughout your self-improvement journey.
Pause for a daily mindful moment. People color and journal for many reasons including self-reflection, to allow thoughts to surface without distractions, or to enjoy solitude. Use the self-discovery journal prompts in this journal to practice mindful journaling and reap the rewards.  
Inside you'll find:
Unique self-discovery journal prompts that stimulate self-reflection 

Space to draw, free write, and express yourself 

Stress relief coloring pages for adults that help transport you from your inner world into the present moment
If you enjoyed guided journals with self-discovery journal prompts like The 5-Minute Gratitude Journal, Let's Talk, or 52-Week Mental Health Journal, you'll love The One Week Journal.
About the Artist
Karen Chen is the designer of Karen Sue Studios. Originally from Dallas, Texas, she is now based out of Sacramento, California. Karen developed a deep passion for art, creation, and mixed media at a young age. After graduating from the McCombs School of Business at the University of Texas at Austin, Karen has been pursuing her dream to create and design. In her words, "In my life's story, art has rewritten the script. It is my passion, and my greatest pleasure to share creativity through my daily work".
See more of Karen Sue Studios Work at 
Sacramento.shop/karensuestudios