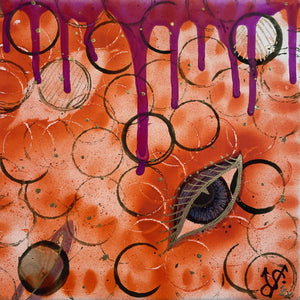 8x8 Painting on canvas - Mixed Medium 
Upcycled canvas, leaf stencil, repurposed paint screen, cardboard tube stamp, spray paint, acrylic paint, enamel, sharpie, metallic acrylic marker.
Feeling the influence of Saturn's heavy drip. 
About the artist

A lifelong Californian, 44 year old Druyan has been painting since gradeschool. Her colorful style ranges from abstract to surrealism, and her goal is to transmute feelings that are hard to describe into visual forms. She also incorporates upcycled and repurposed items throughout her creative process. 
See more from Druyan Art at
Sacramento.Shop/DruyanArt