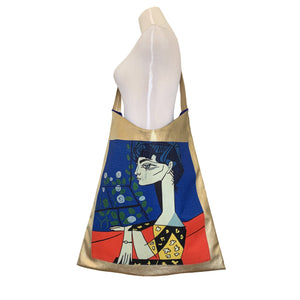 The Jaqueline with Flowers tote bag was inspired by Picasso's painting of his wife and muse, Jacqueline. The wonderfully oversized gold bag is made from durable nylon and french seamed with vintage fabric. Designed to be worn on the shoulder and across the body. This tote is beautiful, practical and it's a piece of wearable art!

About the Artist: 

Grace Yip is known for bold, one of a  embody a "Be Bright.Be Brave" identity. All creations are made from new and recycled materials. All creations are a result of this vision and a zany mind. 
"For me, the magic has always been in the details. I love to create magical moments and vignettes. Consuming less and creating more is part of my design passion. 
Check out more of Grace Yips - styles and designs on her virtual storefront