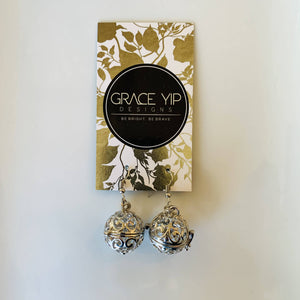 Silver aromatherapy earrings lets you carry your favorite essential oils with you! These earrings open up so you can place an aromatherapy felt pad inside with your essential oil of the day. 
About the Artist: Grace Yip is known for bold, one of a  embody a "Be Bright.Be Brave" identity. All creations are made from new and recycled materials. All creations are a result of this vision and a zany mind. 
"For me, the magic has always been in the details. I love to create magical moments and vignettes. Consuming less and creating more is part of my design passion. 
Check out more of Grace Yips - styles and designs on her virtual storefront