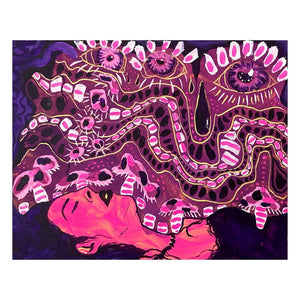 Previously shown at the Verge Gallery, 
The Resting Place
is a colorful, psychedelic self portrait. The artist is pictured resting in a dream-like scene, surrounded by eyes, strange shapes, and mushrooms. Acrylic on canvas, produced in 2022.
About the Artist
Hi! My name is Juliet Elise, a Sacramento visual artist. Art is my tool for cultural, generational and identity exploration. I enjoy using bold colors, contrast, flowing composition, and human elements to create emotional imagery. No style is 'off limits' -- I enjoy challenging myself with a broad range of practices from charcoal portraiture to graphic design to mural art. Having skilled experience with a variety of mediums has strengthened my ability to creatively communicate and work on many different scales. I enjoy seeing art expand beyond the canvas and into community spaces; much of my creative experience includes working in these community art spaces as an artist or administrator. Art pushes me to build meaningful connections with the world around me.
See more from: 
Sacramento.Shop/JulietEliseArt