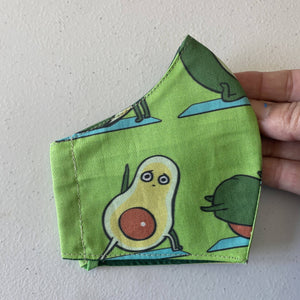 Description
Kids mask featuring a variety of colorful prints. Check the shop for current selection of prints. This contour style mask is made with 100% cotton and features adjustable elastic ear loop straps. Small batch face masks made in Sacramento. Enjoy!
More About the Artist
Janine Mapurunga is a multifaceted artist who loves to create in a multitude of mediums. A documentary photographer of twenty years, Janine delved into the realm of textiles, where she finds incredible joy playing with vibrant colors. Her inspiration comes from having been raised by her grandma and great grandma in a rural town in Brazil, where food was prepared on a wood-burning stove and clothes were made in a manual singer sewing machine. From these simple family memories comes inspiration for every piece she creates. Volte sempre!
See more items from Janine Mapurunga's Virtual Storefront at Sacramento.Shop/MariaCanta
CDC GUIDELINES
CDC recommends that people wear masks in public settings, like on public and mass transportation, at events and gatherings, and anywhere they will be around other people.
Wear masks with two or more layers to stop the spread of COVID-19Wear the mask over your nose and mouth and secure it under your chin
Masks should be worn by people two years and older.
Masks should NOT be worn by children younger than two, people who have trouble breathing, or people who cannot remove the mask without assistance
Do NOT wear masks intended for healthcare workers, for example, N95 respirators
CDC does not recommend the use of face shields alone. Evaluation of face shields is ongoing but effectiveness is unknown at this time.