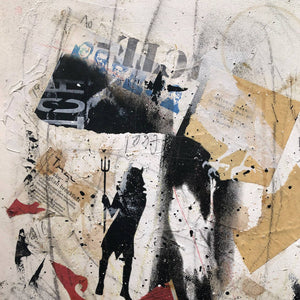 Description
There is a story behind each piece of work from On Gessoed Stock. This piece is called "Ah, Mongolia de-facto Si!"
Referring to black tea as currency in Mongolia. Mixed media on gessoed stock. 16 x 20 Framed.

More About The Artist
Chris Herman is a graphic artist who began practicing art in early 2000, which consisted of a collection of black and white faces on stickers, stencils, and large photocopied posters. Often referred to as Street-Art, they were applied in various urban locations around the Los Angeles area onto electrical utility boxes, bus benches, construction site scaffolds, etc.
In 2014 after an 8 year hiatus from art, Chris returned to the original faces he created during his street campaign and began applying them to small 1-3 color paintings using acrylic on gessoed, cover stock. This eventually evolved to larger paintings on wood as triptych and diptych paintings.
See more items from Christopher Herman's Virtual Storefront at Sacramento.Shop/OnGessoedStock