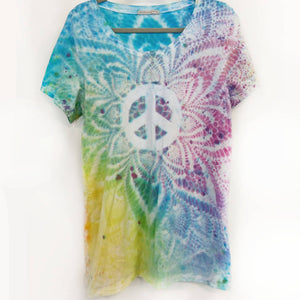 This tie dye tee shirt has a lace and peace sign design. It's a women's 2x. 
About the Artist
 Peace Core Glass Art is just me, Robert Czekanski, a Sacramento based artist who works primarily with glass & mirror.
 I am absolutely committed to reducing and mitigating our impact on the planet. I constantly reduce, reuse & recycle. My source material is almost exclusively upcycled. I rescue jars from the trash. I scour curb alerts, yard sales & thrift stores. I design to literally remove, or at least obscure, the scratches and flaws. I take delight in transforming what was once destined for the trash into something beautiful and unique. Even the adhesive stencil mask material I use is the waste product of an industrial print shop adjacent to my glass studio. I believe we all have a part to play in sustaining and supporting that which sustains and supports us, and a responsibility to protect our mighty, yet vulnerable, Mother Nature.
 
See more from Peace Core Glass Art at Sacramento.shop/peacecoreglassart