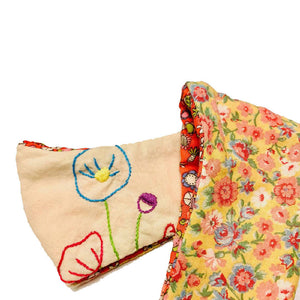 Description: This cute soft cotton children's mask is perfect for your little one during a beautiful spring day.
It has a soft off white, floral mandala print on the outside and a sunny yellow and floral print on the inside, as well as white elastic earloops.
Colors: pink, white,
Materials: Cotton
CDC GUIDELINES
CDC recommends that people wear masks in public settings, like on public and mass transportation, at events and gatherings, and anywhere they will be around other people. Wear masks with two or more layers to stop the spread of COVID-19 Wear the mask over your nose and mouth and secure it under your chin Masks should be worn by people two years and older Masks should NOT be worn by children younger than two, people who have trouble breathing, or people who cannot remove the mask without assistance. Do NOT wear masks intended for healthcare workers, for example, N95 respirators.
CDC does not recommend the use of face shields alone. Evaluation of face shields is ongoing but effectiveness is unknown at this time.