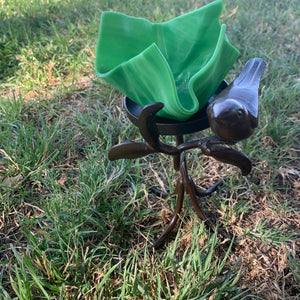 Description
The green fused glass candle holder really enhances this upcycled candlestick.  The bird is a really neat touch.
Materials
Fused Glass, metal recycled candlestick
More About the Artist
Shmak Creations is an artist based out of Sacramento, CA. Everything she creates is kiln-formed glass. Her work is made out of upcycled glass and sheet glass. She is inspired by color and experimentation with the desire not to let hard objects like glass go to waste.
See more from Sheri Kindsvater's Virtual Storefront at Sacramento.Shop/ShmakCreations