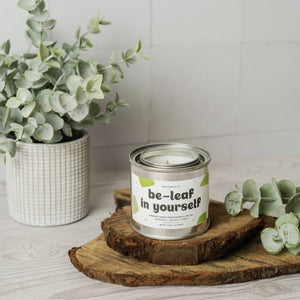 Notes: Grapefruit, Sea Salt, Amber
Be-leaf In Yourself and find the courage to chase your dreams. This uplifting scent has a playful blend of grapefruit, sea salt, and amber that will help you feel empowered and ready to take on anything. Soak up the good vibes and let your inner light shine.

What It Is:
A hand-poured coconut wax candle infused with the perfect blend of premium fragrance oil that will elevate any atmosphere 
Why You'll Love It
Pet-friendly and vegan
No lead or toxic nonsense – just the good stuff
Burns slower and cooler compared to soy

4.5 oz burns up to 40 hours
A tree is planted with every purchase 🌱

About The Artist
Hi! I'm Kimberly, the creator and founder of Sun Kissed & Co. It all started when I was finishing my last quarter at the University of California, Santa Barbara, during the pandemic, and I needed some self-care to get through it. Eventually, my passion project grew into something more than just a hobby, but a full-time business!


Sun Kissed & Co. was born from my desire to merge self-care with our environment together. I believe that mental wellness goes hand in hand with physical wellness, so why not design products that serve both needs? Our products are designed with you in mind to support your physical well-being and your mental health – from dry skin to relaxation time before bedtime; I got you covered.
See more from Sun Kissed & Co.