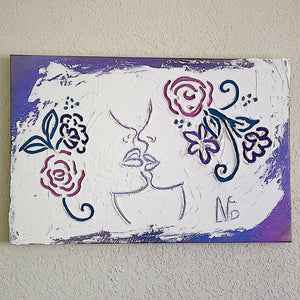 Product Description 

Plaster Sketch on Thrifted Canvas with Acrylic Details
Dimensions 

15.5"x23.5"
_____________
Accessible Audio Description
The piece a plaster sketch on a rectangular, thrifted canvas with painted acrylic details. The piece depicts two profiles of non-descript gender seconds away from a kiss. Roses frame the sketch. The figures are line sketched into textured plaster. The canvas underneath is painted in muted bi flag colors of purple, blue, and pink; the lines of the roses are filled in the same color palate.
About the Artist

Nyx is a Sacramento local who has recently reunited with her passion for art. She was blessed to be born into a family that continuously encourage her in her artistic endeavors. Throughout her childhood, Nyx's parents worked hard to provide her with dance, music and art lessons all of which influence who she is as a creative today.


Although encouraged by her teachers to pursue art school Nyx initially got her associate degree in Theatre Acting. However, she would soon discover a new passion for working with children on the ASD spectrum. This discovery would eventually lead her to a bachelor's degree in psychology and a career in Applied Behavioral Analysis. 


After five years in corporate ABA companies, Nyx began to feel burned out. More and more, she saw these large companies treat her precious clients as dollar signs and numbers as opposed to the amazing children that they were. 


In April of 2023 Nyx left her corporate position and found herself with some time on her hands. What initially started as a project to create art for the walls of her new home, soon ignited the love that Nyx had for crating. She began exploring her relationship with herself and those around her through art. Each new piece became a denouncement of the world that had burned her out. 


Recently Nyx began working for a local, woman-run, ABA company that is allowing her to grow her passion for the field once again, as well as giving her the time to continue creating art.
See more from The Artist at
Sacramneto.shop/theartistknownasnyx